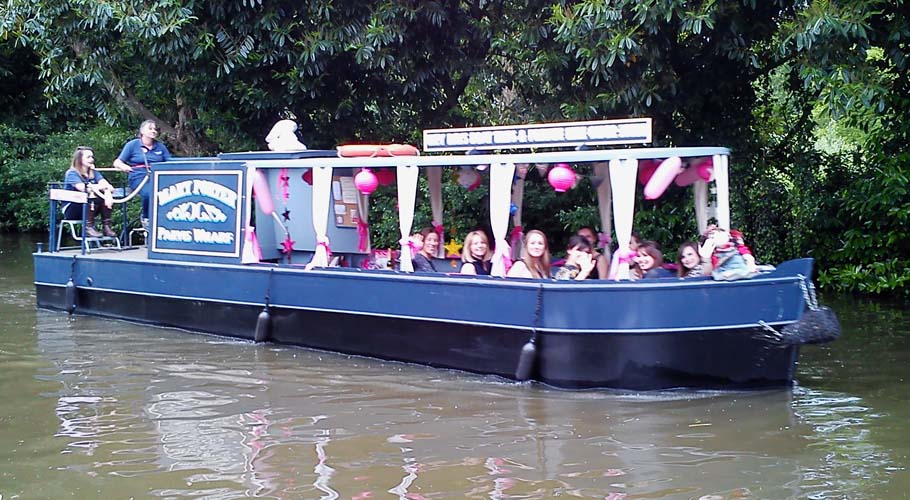 If a full day out is more than you require, 'Mary Porter' is available for half-day self-drive hire.
The hire period is for 4 hours from 1pm until 5pm (or sunset if earlier). Hirers are not permitted to go through any locks, but it will still be a great way to travel to the Anchor for lunch, then a gentle poodle on down to New Haw lock, before returning to Parvis Wharf for 5pm.
Flat rate, maximum 12 people
July & August ... £190.00
Rest of the year ... £160.00
Availability: Most days of the year (even in winter for the bravest boaters)
Booking: Please telephone or visit in person to make your booking. Full payment of the hire fee is required to secure your booking. Payment may be by cash or debit card. An additional £100 cash security deposit (this is not an insurance waiver) against safe return of the boat and inventory or third party damage is required. Assuming all is good at the end of the day, and the boat is returned clean and on time, this will be returned.
Novice or expert? On your arrival, we will give you a comprehensive introduction to the boat and general safety procedures. This is then followed by 15 minutes hands-on tuition upstream towards the Anchor.
Hirers should click on the links below for our full Terms and Conditions, and for further information about boating and our boat. Although we will go through these on the day, reading through them before hand would be an advantage.
The files are in .pdf format and require an appropriate reader. If you do not have one, Adobe Reader is available from get.adobe.com/uk/reader free of charge. Some 'built-in' readers within web browsers do not display these correctly. If so, <right click> on the link then save the document for off-line reading.
  Terms and Conditions of Hire for Dayboats
  Operating the engine and appliances
Another useful document is: The National Trust Guide for Boaters
See our Contact/Map page for the location maps and the National Trust map of the Navigation.
--------------------------------------